THE ONLY RACE THERE IS-IS AGAINST TIME...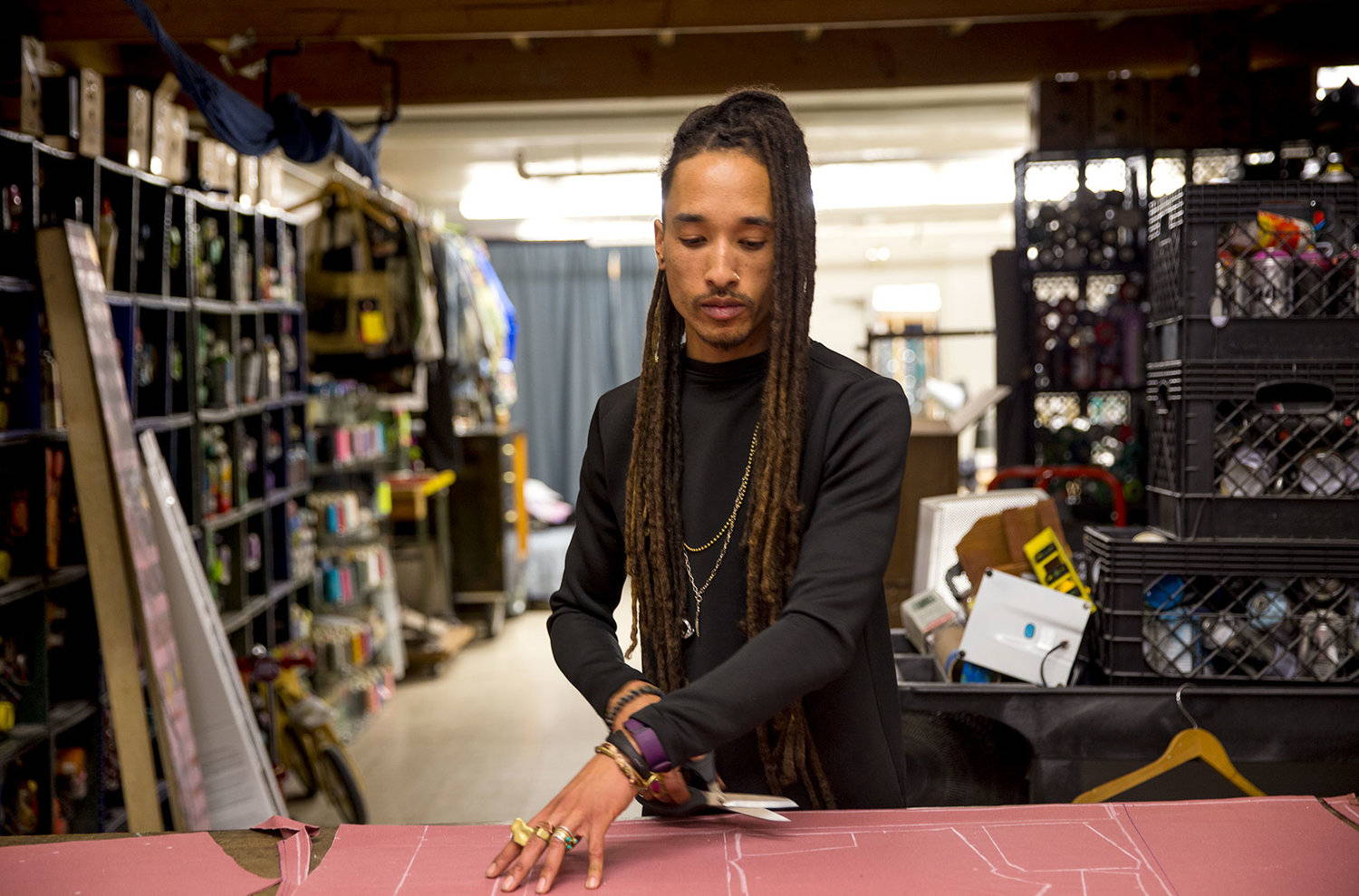 I was born in Japan and my family is from Kumamoto-Japan, South Carolina and Nigeria. I am a citizen of earth however my mother always changed her ethnicity everytime I asked her - the lesson was its matter. (read again) and she also says I was born from an egg in space (she says shes serious).
I sewed my first pair of jeans in 2006 and have always been a teacher (math, art, design)- my neighbor knocked on my door one day and said that her husband just left them and her son (13) was wildin out. I told her thats exactly what happened to me and bring him over. I was sewing that day and told him to pick stitches out and if he was hungry. He started bringing his friends over and I began teaching them and it never stopped growing.
The name came from a joke with a long good story that has truth to it.
I have had shops, been around the world and worked with your favorites but nothing beats teaching and making the factory grow bigger.
With my own family it is more real than ever and I put my all into this to complete the vision and share my heart with you.
PERSONAL WORKS DISPLAYED IN

---
The youth are always in need of guidance, assistance and advancement. Drugs, war, atomic bombs, self expression, depression, etc etc. Holy Stitch! exists to educate, empower and employ the youth of today to evolve from being solely consumers and to become the Social Exrepreneurs and producers of tomorrow via the Sewing Machine, Tech, the Arts, Community and innovation. Standing upon the pillars of food/clothing/home/culture/education/family and freedom.
How do you actually and effectually capture and sustain the youth into positive change?
Since 2008, combining the structure of a school and a factory Holy Stitch! has created over 8500 students, interns and apprentices age 13-31 learn how to make jeans and become their own brand with a social and moral compass. Our graduates have gone on to top universities and corporations with continued success.
In 2011, San Francisco's new mayor announced plans to "clean up" downtown by creating a new corporate "dot com corridor" and arts district. To prevent displacement of residents, The Luggage Store Gallery brought together over 100 artists and activists to consider utopian aspirations and plot alternative futures for the city. The resulting exhibition, Streetopia, was a massive anti-gentrification art fair that took place in venues throughout the city, featuring daily free talks, performances, skillshares and a free community kitchen out of the gallery.
By doing a live installation of sewing in the window, Holy Stitch! broke the paradigm and drew attention and the window extended into the rest of the shop.
May 2012 saw the opening of Holy Stitch! at 988 Market Street, which was followed by a move to Twitter in June of that same year. 2013 saw another move, this time to 1186 Market Street, where Holy Stitch! remained until Covid-19 hit. Being just one block away from Powell and Market street + Supreme meant that Holy Stitch! was right in the middle of street life, tech life and commerce being an oasis in a blighted area.
A dream is a nightmare also, dont forget that... and that picture there is the portion of the core apprentices. We have lived together, helped each others families and made some highly regarded pieces. I have had to sleep in the factory and they were right there with me, rather we were together.
Young Thug in Dubai wearing a full Holy Stitch! outfit
EXPERIENCE + VALUES + INTEGRITY
Holy Stitch! has been a part of the industry for 15 years, bringing a unique perspective as the internet grows and people take more control of their resources. The pillars upon which Holy Stitch! stands are FOOD, CLOTHING, HOME, EDUCATION, CULTURE, FAMILY, and FREEDOM. It is important to know who produces the food we consume, and it is equally important to consider the origin of the clothing we wear.
The industry is small, and Holy Stitch! operates within a niche within it. Success in this industry is based on relationships, and the fact that Holy Stitch! has been able to thrive for so long is a blessing. There is a void in the market for a company that can bridge the gap between knowing one's suppliers and factories, and providing education on what constitutes quality clothing. Holy Stitch! aims to fill this void by providing a designer who can speak the customer's language and translate it into high-quality, well-designed clothing.
Over the years, Holy Stitch! has been able to provide exceptional service to its clients, and is now bringing that level of service to the consumer market. There are no secrets at Holy Stitch!; the company is all about access, sharing, and trust, which can be hard to come by on the internet. As a result, the doors are open to anyone with an idea for a clothing line, though exceptions may apply, hopefully you are the exception to the rule.
A video made by High School interns telling about Holy Stitch!
In the future, Holy Stitch! aims to become a factory fellowship and a leader in fashion education. Imagine Willy Wonka's factory, but for clothing and art. Holy Stitch! will not only provide jobs, fun, and high-quality products, but it will also give tours and implicit lessons on life values to youth. The company will strive to be as off the grid as possible, using bikes to power batteries for clothes, and will incorporate virtual reality technology to enable global collaboration and education.
This is the fourth generation of Holy Stitch!, and the company is now focusing on digital initiatives before reopening the factory. Holy Stitch! has already made a positive impact on the industry and society through word of mouth, and now it is time to take its message to the masses. The company is currently securing funding to find the right space and situation for its vision.
The future is bright for Holy Stitch!, and the company looks forward to having you join the journey. The only gift that Holy Stitch! asks for is your presence. Together, we can make the future even brighter.
SUBSCRIBE TO OUR NEWSLETTER
Recieve our latest weekly releases, offers, guides and more.